10 Search Engine Optimization Tips for 2016
Google has made some major changes to its algorithm in the recent months. And unlike the algorithms of old that updated every few months, new algorithms (IE:Google Penguin 4.0) are machine-learning-based algorithms that have the ability to update in real-time.
If you thought your website positions were fluid before, you're in for a big surprise. Google (and other search engines) will start delivering results in real-time based on YOU and the other millions of users searching billions of topics everyday.
But so what? And I'm not being sarcastic here. So what! (without the "?"). We've been talking about the changes and factors these algorithms will be looking for, for quite some time now. So, for me to come out with some SEO tips for 2016 is almost repetitive. BUT, now that things are clearer, more active, and officially vouched for by the search authorities, these things we've been talking about is now a reality. So not to reiterate, but to reiterate; here are 10 things you should really look into regarding your SEO efforts for 2016.
1. USER EXPERIENCE – How a person reacts to your website has not only moved up in the ranking factors, in the recent months and years. But will now be factored in, in real-time. It's not going to take Google months to realize that you are the best or that other sites are better than yours. And with the help of Google Analytics which is installed on more than 1/2 of the websites on the net, Google can quite possibility figure these things out faster and move your rankings before the next person searches your very same keyword.
2. DEEP LINKS – Google wont say it. But the algorithm is clear when it comes to backlinks. Backlinks still reign and are the heartbeat of Google's algorithm. To ignore getting mentioned by other websites is ludicrous. But what's more important is the 'why' websites are linking to you. In order to help filter through all the links any site can get via directories, ads, sponsored posts, listings, etc.,, Google is looking at other signs to see why a site links to yours. Normally a reputable site is getting linked to because of its specific products, unique resources, informational blog posts, etc. What pages of your website are link worthy, or are getting links that are hard to mimic/emulate?
3. LINK ACTIVITY – As mentioned above, with the help of Google Analytics, Google can figure out many things related to the value of your website. I've been a long time advocate of the 'Referral Traffic' factor. If you have thousands of backlinks and only 20 referring visits (visits via those backlinks), what do you think that says about your backlink profile?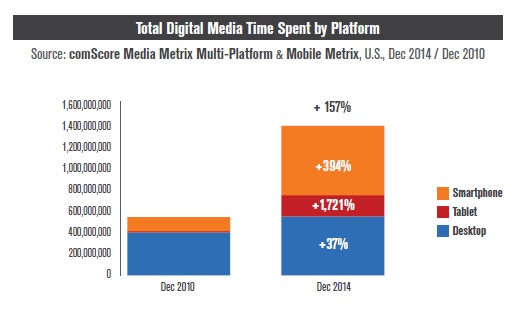 4. MOBILE FRIENDLY DESIGN – I hate it. But stats prove it. Actually, I personally prove it too when I look at how many websites I visit just in one day on my phone. Check this article out. It's actually starting to pay more to be mobile device friendly than desktop friendly! Can you believe that?? My old-school side is still in denial. But I'm not going to fight the facts.
5. BACKLINKS – I've already touched on links and I'm only going to touch on it a little here. You need backlinks. I really wanted to leave it at that. But instead, how about you just ask yourself these questions;
Why am I getting these links?
What is the new hottest approach to obtaining links?
Do I deserve links from the biggest sites in my industry?
Could I send my link building gameplan and successes to Google for approval?
But bear in mind, though the algorithm needs links to function, it does unleash killer penguins to hunt them down.
6. FAST LOADING WEBSITES – There's a lot of buzz going around about how fast your website loads making a difference in your rankings. And while I still believe Google has to take into consideration that not all web owners and budgets are ready for this, (especially when 5 of 10 of the top ranking sites aren't "fast"), it's still something Google is pushing it. So my advice is, if Google wants a faster web and provides tools to help you make your website faster, then do it. And with the help of machine-based learning and real-time algorithm updating, it just makes sense.
7. ACTION-BASED SITE ENGAGEMENT – There are 2 sides to this coin, and since this factor is worthy of  its own blog post (that I will write about in the near future), I'll just leave you with a couple teasers/questions;
One Side – Since bounce rate could also be a sign that your site provided an answer really fast and fulfilled its purpose, the question is where did that user go after they bounced?
Other Side – Yay, you got the user to visit a few more pages and spend a couple more seconds on your website. But what did that user do with that extra time, or even after that?
8. CONTENT FRESHNESS – How fresh is your content? Remember, we use Google because it delivers relevant results. If it only delivered the websites with the most information and content or the most robust shared content, you make be stuck with a bunch of results from 2008. Part of the definition of relevance is being applicable to today. And as a user you know instantly based on lingo, images, news, blog post, and even design, if a website is providing you with the latest resources, options, gadgets, etc.
9. BAD BACKLINKS – This is the 4th backlink factor on this list. I told you links are important 😀 … Again, one of the most recent updates was a penguin, and if you've been in the SEO industry for awhile, you know that the penguin will tell on your website and get you in trouble/banned/penalized in a heartbeat. Fortunately for bad link builders, the new algorithm updates more often. So start cleaning up your naughty past ASAP. You just might be able to get back on the board, sooner than later.
10. META DATA – WHAT!?!? Meta data!?!? Did I just bring up one of the OLDEST SEO factors in the that dusty ole SEO book? YES, YES I DID. And I'm not even going to explain it to you.
Okay, okay, that's not fair to the newbies…
Your page's title tags and meta description plays 2 important roles;
Title Tags are still very heavy in the ranking factors world. Just Google something and see how often that term is listed in title tags and bold in the meta (listing) descriptions.
CTR (click-through-rate). We all do it; we read the search listings before clicking on them. So why not try to get more clicks? But remember back to point #1; don't be deceitful.
Closing
There are hundreds of other factors to look into when performing SEO. That's why us SEO specialists are in business. But if you focus on the above 10 in 2016, you'll do just fine (without me/us). But, if you don't have time or techy experience, and/or need some strategic guidance, contact me today.